The Family Resource and Training Center is in need of items for our teens in foster care.  Gas cards, grocery cards, hygiene items, art supplies, shoes sizes 7-12 (adult), household items, and gift cards for local shops such as ice cream or coffee. Open the Flyer >>
https://www.kootenaihumane.org/wish-list
Baby Boutique: (all items are new in our boutique):
*Winter Boys & Girls Clothing (sizes newborn – 24 months)
*Baby Shoes
**Baby Socks
Baby Hygiene Items (shampoo, powder, bathing soap, lotion, etc.)
*Diapers, sizes Newborn – 5
*Baby Wipes
*Wearable Sleep Blanket (a sleeper that looks like a closed blanket at the bottom)
*Dreft Laundry Soap
*Thermometers in pacifier, head stripe and/or traditional form
Grooming Kit (including nail clippers, brush and comb and aspirator bulb)
Medicine Spoon or dropper
*First Aid Kit
*Car Seats
*Strollers
*Pak-n-Plays
High Chair
*Baby Barriers/Gate
Diaper Pail that is self-contained or has a lid
Infant Tub or bath ring
Baby Proofing Items (Cabinet latches, Drawer Latches, Outlet Covers)
Dishwashing Basket for bottle nipples
*Nursing Pillow
Nursing Pads
Nipple Cream
Diaper Rash Ointment
Baby Hooded Towels
Baby Wash Cloths
Cool or Warm Mist Humidifier
Swaddling Blanket (Blanket with Velcro pieces to assist swaddling baby)
Teething Toys
*Toys: Ages Newborn to 24 months
*Bath Toys
*Children's Books (Hard Cover)
Nursing Cover-Up for Breastfeeding Mom
*items most wanted
Office Supplies:
Copy Paper, 8 ½ x 11 in white and pastels colors (pink, orange, blue, and yellow)
Financial donations for on-going education for staff and volunteers
Specific Holiday Requests:
Sexual Assault
sweatshirts, sweatpants, T-shirts and athletic shorts
​Shelter
bed pillows
bath towels
silverware, dishes and mugs
general kitchen utensils
Teen Outreach
variety of K-cups (for teen clients using services at local high school)
journals and adult coloring books
Child Advocacy Center
kid friendly snacks in individual packages (granola bars, Goldfish, Applesauce, etc.)
journals, notebooks, crayons and coloring books
teen appropriate books
puzzles, stress balls and tangle toys
small stuffed animal
weighted blankets & weighted stuffed animals
Full list: http://www.safepassageid.org/donations
Click link or image to view PDF of Winter Needs.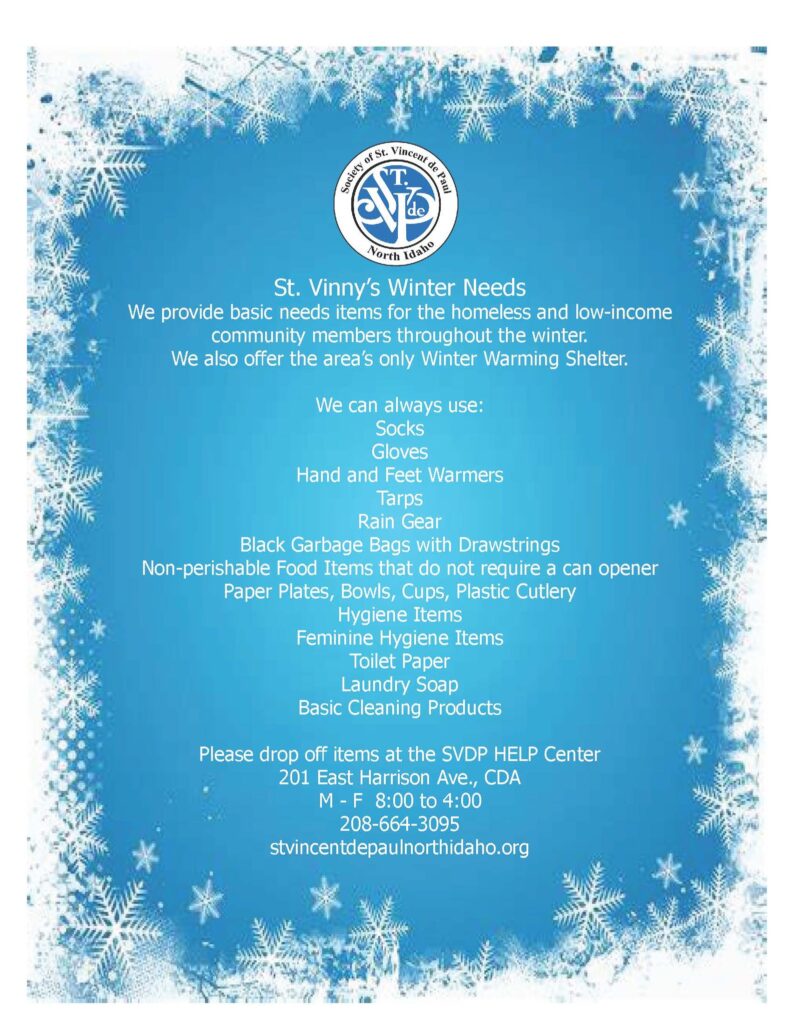 Disinfectant wipes
Coffee
Hygiene products
Standard size pillows
Laundry baskets
HOLIDAYS:
$5 & $10 gift cards from local coffee shops, WalMart, Walgreens (close to UGM)
Bathrobes & Pajama Drive – Women's & Children's sizes